🐾🏡 Brighton, Michigan residents, the day we've all been eagerly awaiting is almost here! DogWatch Hidden Fence, in partnership with Mazie Mooz Boutique and Adopt A Pet of Fenton, Michigan, is thrilled to bring you a day filled with furry love and forever homes. 🐕❤️ Mark your calendars for tomorrow, October 17, 2023, from 4:00 PM – 8:00 PM, right here in Brighton, MI.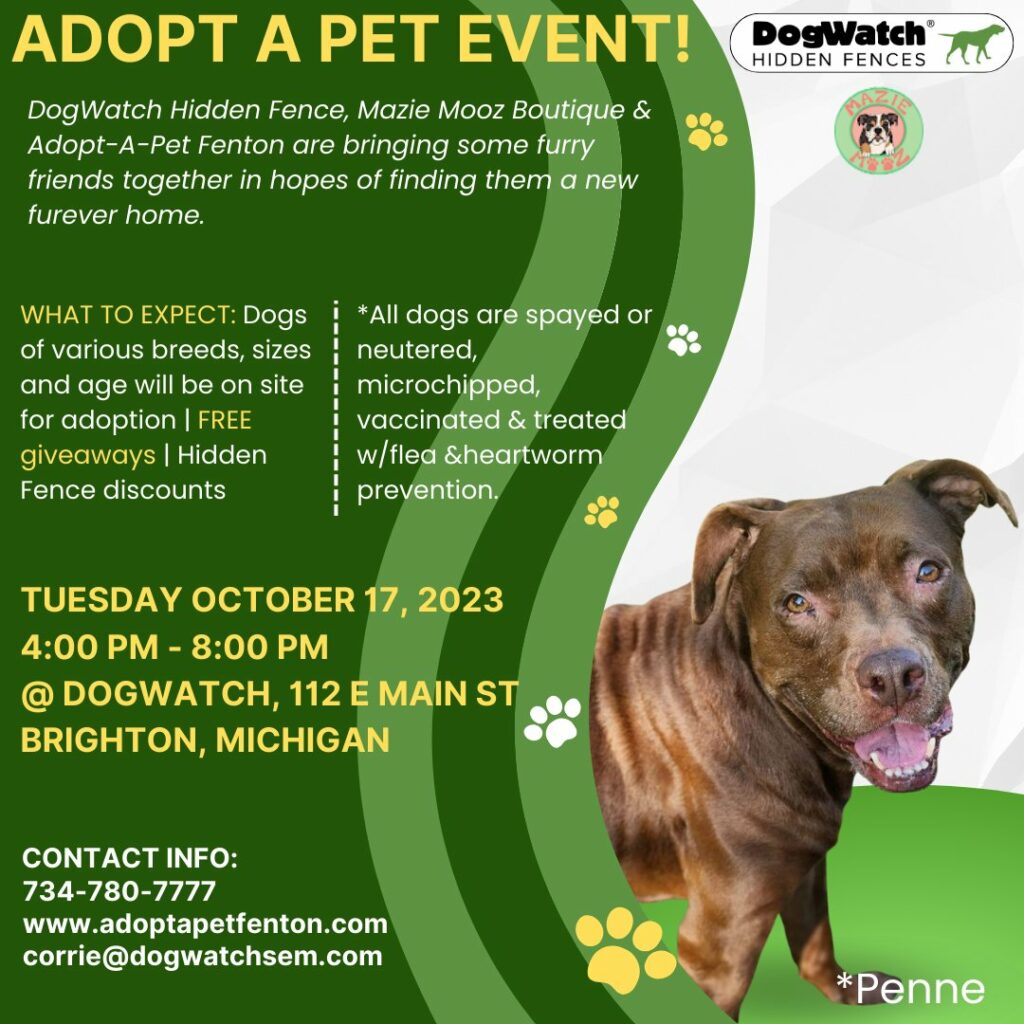 What Brighton Residents Can Expect:
📆 Date and Time: Tomorrow, Tuesday, October 17, 2023, from 4:00 PM – 8:00 PM
📍 Location: DogWatch, 112 E Main St, Brighton, MI
Let us know you are going: https://www.facebook.com/events/864649351776254/
Here's what's in store for you at this amazing Brighton event:
🐶 Diverse Range of Dogs: Dogs of various breeds, sizes, and ages are eagerly waiting to become a part of your Brighton family.
🎁 FREE Local Giveaways: To celebrate this special day, we're offering free giveaways to make your pet-parent journey in Brighton even sweeter.
💰 Exclusive Brighton Discounts: DogWatch Hidden Fence is providing special discounts for Brighton residents to ensure your new pet is safe and secure.
---
Why Brighton Locals Choose DogWatch of Southeast Michigan and Adopt-A-Pet:
Rest assured, all of our dogs are spayed or neutered, microchipped, vaccinated, and treated with flea and heartworm prevention, making them the perfect addition to any Brighton home.
---
Contact Information for Brighton Residents:
---
Come meet these loving pups tomorrow and discover the joy of pet adoption in Brighton, Michigan. Let's make a difference together! 🐶❤️ See you there, and let's find these pups their happily ever after in Brighton! 🏡🐾
Want to know more about our DogWatch products?
Get a Free Quote!